Bloomingdale Neighborhood Association
The Bloomingdale Neighborhood Association is a community association chartered by residents in 1980 as the Bloomingdale Homeowners Association. While the Association has evolved through the years, its primary purpose remains to promote neighborhood cohesion and harmony while protecting our neighborhood property values. Our website contains a wealth of community and local area data. We have included association information, archived and current copies of our community paper, The Bloomingdale Gazette, a "Frequently Asked Questions" link, contact details for internal and external agencies, and much more.
Bloomingdale is a great place to work, live, and call home. This site is intended to be a resource for the over 5,200 homes and 23,000-plus residents within our Bloomingdale Neighborhood Association area.
Join the Bloomingdale Neighborhood Association!
What does your membership go to?
– Community Garage Sale
– Community Clean-Up Day
– Bunny Drive-through Visit
– Participation in the Campo YMCA Trunk or Treat Event
– Santa Drive-through Visit
– Service hours and scholarship opportunities for students
– The Bloomingdale Gazette
– BNA social media pages (this website, Facebook, Instagram and Twitter)
– Part-time staffed office to assist with inquiries.
– Board interaction with government officials to highlight community needs and issues like development, road and sidewalk issues, and the conditions of our parks.
– Neighborhood standards list to maintain our property standards and quality of life. We do not enforce deed restrictions, rather we work with county code officers to report code violations.
The $35 membership fee is returned 100% to the community. Every member and dollar matters. As a united community, we will make our neighborhoods better!
Join the BNA now via PayPal!
Look for the PayPal Pay Now button at the bottom right corner of this page.
Community Clean-Up Day: February 5th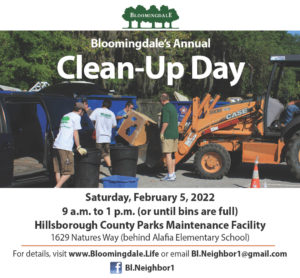 The Bloomingdale Neighborhood Association (BNA) is hosting a Community Cleanup Day on Saturday, February 5th from 9 am to 1 pm! Join the BNA at 1626 Natures Way behind Alafia Elementary. The event is free!
9am – 1pm, February 5th at the Parks & Rec Maintenance Facility at 1629 Nature's Way Blvd, Valrico.
eCycle will accept old electronics, including computers, laptops, networking equipment, cell phones and flat screen TVs. They do not take CRT or DLP TV's (the ones with the large backs).
ShredIt will be there to shred documents on-site.
Lighthouse Ministries will be on hand for donations of household goods and clothing.
Ten Commercial Dumpsters will be available for trash.
Accepted items for trash include: refrigerators, ovens, water heaters, steel and other metals, furniture (such as couches, chairs, tables and mattresses) and construction debris (such as concrete, bricks, glass and roofing materials), and tires.
Unaccepted items are medications and household chemicals, paint, fluorescent lamps, yard waste, auto products, ammunition, pool products, batteries and propane tanks.
Unwanted medications can be dropped of at these locations:
Hillsborough County Sheriff's Office 2310 N. Falkenburg Road Tampa, FL
CVS 1010 Bloomingdale Avenue Valrico, FL 33596
Unwanted household chemicals, paint, fluorescent lamps, yard waste, auto products, ammunition, pool products, batteries and propane tanks can be taken to Hillsborough County Household Hazardous Waste Collection Site 13000 US Highway 41 Gibsonton, FL on the second Saturday of the month.
Upcoming Events
Community Clean-up Day 2/5/22
Spring Picnic 3/6/22
Bunny Visit 4/10/22
Bloomingdale Community Garage Sale 9/10/22
Santa Visit 12/4/22
BNA board meetings are every 2nd Tuesday of the month at 7 p.m. / Bloomingdale Community Office, 3509 Bell Shoals Road / The community is welcome to attend. Call or email for more information: 813-252-0252, bl.neighbor1@gmail.com.
---
_______________________________________________________________________________________________________
Visitors
Like us on Facebook and follow us on Twitter!