The Bloomingdale Gazette

An Award Winning Community Paper
Hillsborough County Neighborhood Award for Best Communications in 2013-2014, 2014-2015, 2016-2017, 2018-2019 and 2019-2020
The Bloomingdale Gazette Jane Owen, Editor
Email: inbloomingdalenews@gmail.com Phone: 813-681-2051/252-0252
The Bloomingdale Gazette, published since 1980, is our community's premier newspaper. It is delivered on the first Wednesday of each month by our current publisher, The Tampa Bay Times, to all 5,200 Bloomingdale homes. Stories are provided by a staff of reporters, board members, and residents. Articles include information about neighborhood standards, community and local events, business and resident profiles, school happenings, and issues of concern to the community. The goal is to communicate effectively with our residents and present a balanced, unbiased viewpoint. Direct questions concerning story ideas, advertising, and distribution issues to our editor.
2019 Hillsborough County Large Scale Communications Award
Pictured from left to right: Jane Owen (Staff Reporter), Deidre Morgan (Staff Reporter), Joy Boisselle (Gazette Editor), and Wendy Knipp (Staff Reporter).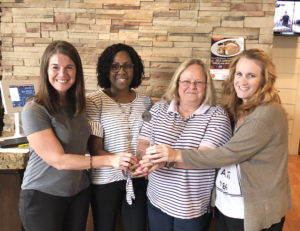 2014-2015 Hillsborough County Neighborhood Award for Best Communications
The BNA Board, Bloomingdale Gazette staff, and Tampa Bay Times (TBT) representatives gathered to celebrate The Bloomingdale Gazette's repeat win for 2014 Best Communications at the 12th Hillsborough County Neighborhoods Conference held May 9, 2015. Pictured clockwise from top left: Andrea Daly (TBT), Deidre Morgan (Staff Reporter), Mary Galin (BNA Board), Miriam Leech (Staff Reporter), Chris Pascucci (NTZ Studios), Suzy Watts (BNA Board), Joy Boisselle (Gazette Editor), Mack Austin (Staff Reporter), Billy Hightower (BNA Board), George May (BNA Board), Dann Berkowitz (BNA Board) and Kayla Hayes (Staff Reporter).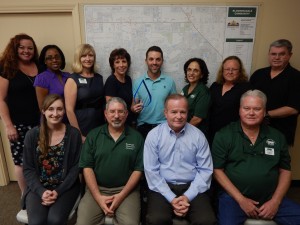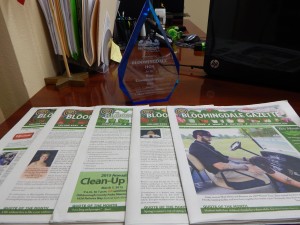 2013 Hillsborough County Large Community Communications Award.
Pictured: Tony Del Castillo of the Tampa Bay Times, Bloomingdale Gazette Editor, Suzanne Jones and George May, BNA President.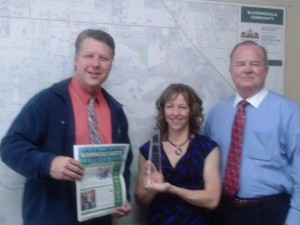 Archives