BNA Membership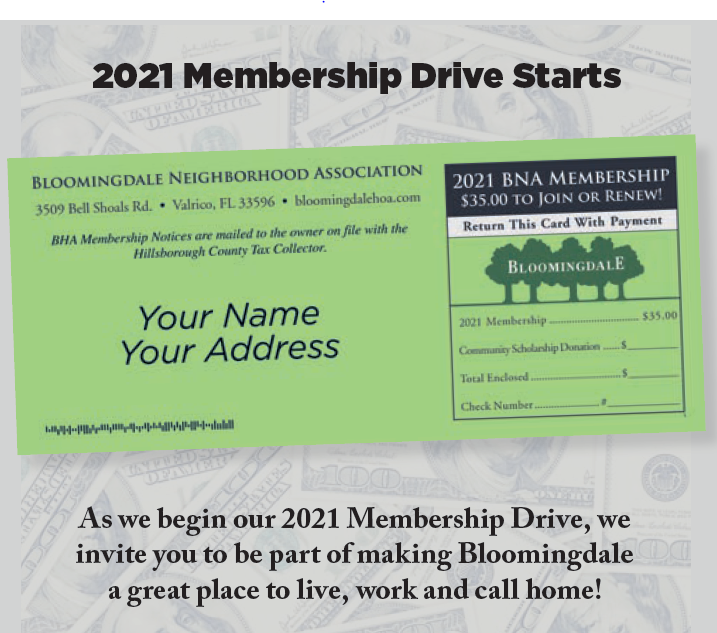 BNA Membership Year
January 1, 2021– December 31, 2021
2021 BNA Membership
Resident support needed and welcomed
Dear Bloomingdale Residents:
Thank you for supporting your Bloomingdale Neighborhood Association (BNA), formerly the BL Homeowners Association (BHA). Bloomingdale is still one of Hillsborough County's most desirable areas in which to live. Joining the Association allows your Board to continue to build a strong organization dedicated to building, improving, and maintaining the community we all call "Home."
The BNA is the only community organization representing Bloomingdale's nearly 5,200 residences and over 32 neighborhoods in mandatory and voluntary Homeowner Associations. We are a voluntary organization with annual membership dues set at $35.
The BNA is an IRC 501(c) (4) non-profit organization, run entirely by volunteers who live in your neighborhoods. All membership money collected goes back to our community, and all residents are welcome at our monthly board meetings on the second Tuesday of each month at 6:30 p.m. at the Bell Shoals office.
For a complete listing of your membership benefits, browse our "Programs and Services." To review this year's membership drive letter, follow the link below.
UPDATED 2021 Membership-Scholarship
Payment Options:
Pay by Mail: Send a check with your address to BNA, 3509 Bell Shoals Rd., Valrico, FL 33596. Please note 2021 membership Dues in the "For" section.
Pay Online via PayPal: Click the PayPal button and follow the simple instructions. A $1 PayPal fee is assessed if this method is used.
We need you to help keep our community strong!
JOIN TODAY!
2021 Membership