Bloomingdale Neighborhood Association
The Bloomingdale Neighborhood Association is a community association chartered by residents in 1980 as the Bloomingdale Homeowners Association. While the Association has evolved through the years, its primary purpose remains to promote neighborhood cohesion and harmony while protecting our neighborhood property values. Our website contains a wealth of community and local area data. We have included association information, archived and current copies of our community paper, The Bloomingdale Gazette, a "Frequently Asked Questions" link, contact details for internal and external agencies, and much more.
Bloomingdale is a great place to work, live, and call home. This site is intended to be a resource for the over 5,200 homes and 23,000-plus residents within our Bloomingdale Neighborhood Association area.
Join the Bloomingdale Neighborhood Association!
What does your membership go to?
– Community Garage Sale
– Community Clean-Up Day
– Bunny Drive-through Visit
– Participation in the Campo YMCA Trunk or Treat Event
– Santa Drive-through Visit
– Service hours and scholarship opportunities for students
– The Bloomingdale Gazette
– BNA social media pages (this website, Facebook, Instagram and Twitter)
– Part-time staffed office to assist with inquiries.
– Board interaction with government officials to highlight community needs and issues like development, road and sidewalk issues, and the conditions of our parks.
– Neighborhood standards list to maintain our property standards and quality of life. We do not enforce deed restrictions, rather we work with county code officers to report code violations.
The $35 membership fee is returned 100% to the community. Every member and dollar matters. As a united community, we will make our neighborhoods better!
Join the BNA now via PayPal!
A $1 PayPal fee is added to your payment
2021 Scholarship Winners
Jake Kehrmeyer and Rosie Harrison

BNA EVENTS
BNA Board Meetings are every 2nd Tuesday of the month at 7 p.m. / Bloomingdale Community Office, 3509 Bell Shoals Road / Call 813-252-0252 for information. The community is welcome to attend! Send topics you want addressed to bl.neighbor1@gmail.com.
Annual Clean-up Day – November 6, 2021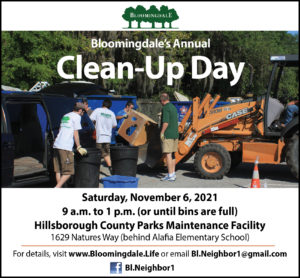 ---
Attention! Attention! Attention!
Neighborhood Standards: Program initiated by BNA, Enforceable by County Code Officers
The Bloomingdale Neighborhood Association (BNA) adopted new Neighborhood Standards during the July 2016 board meeting with an effective date of August 1, 2016. Developed in partnership with the county's Code Enforcement Department and based solely on existing Hillsborough County Code Ordinances, the standards are legally enforceable by county code officers.
While aimed primarily at our non-mandated neighborhoods, see list below, the standards are applicable to our mandatory HOA neighborhoods too. These standards provide residents a baseline for property maintenance and are designed to protect property values and quality of life.
Our mandated HOA neighborhoods already have enforceable deed restrictions in place that typically are more restrictive than the county ordinances that make up the new standards document. In addition, our mandatory HOA neighborhoods have violation and assessment committees, and procedures well established and working successfully.
There are two options for residents in any Bloomingdale community to submit complaints. Residents may contact county directly, contact their mandatory HOA/property manager, or the BNA. Complaints in our mandated neighborhoods must first be submitted to the appropriate mandatory board or property management company.
The new standards help you, the resident, and the BNA continue to keep our community thriving and a place we can all be proud to call our home.
Non-Mandated neighborhoods include: Augusta Village, Bloomingdale Estates, Bloomingdale Oaks, Bloomingdale Trace, Bloomingdale West, Chadd's Ford, Cypress Reserve, Fairway Manor, Fairway Park, Oakcrest, Sandy Creek Manors, Bloomingdale Pointe, Pine Oaks, Spring Lake, Stratford Trace, and Windsor Woods.
Register a Complaint:
Submit to Hillsborough County Code Enforcement online at https://webapps.hillsboroughcounty.org/hcce/resources/onlineservices/enforcement/home.cfmor OR http://www.hillsboroughcounty.org/ OR call 813-272-5900.

Should you wish to remain anonymous, contact the BNA via email at Bl.Neighbor1@gmail.com or call 813-681-2051 or 252-0252.
Neighborhood Standards and Reference Links
_______________________________________________________________________________________________________
Visitors
Like us on Facebook and follow us on Twitter!