Bloomingdale Neighborhood Association
The Bloomingdale Neighborhood Association is a community association chartered by residents in 1980 as the Bloomingdale Homeowners Association. While the Association has evolved through the years, its primary purpose remains to promote neighborhood cohesion and harmony while protecting our neighborhood property values. Our website contains a wealth of community and local area data. We have included association information, archived and current copies of our community paper, The Bloomingdale Gazette, a "Frequently Asked Questions" link, contact details for internal and external agencies, and much more.
Bloomingdale is a great place to work, live, and call home. This site is intended to be a resource for the over 5,200 homes and 23,000-plus residents within our Bloomingdale Neighborhood Association area.
Upcoming Events
BNA board meetings are every 2nd Tuesday of the month at 7 p.m. / Bloomingdale Community Office, 3509 Bell Shoals Road / The community is welcome to attend. Call or email for more information: 813-252-0252, bl.neighbor1@gmail.com.
Bloomingdale Beautification Contest!
One of the Bloomingdale Neighborhood Association's goals is to promote events and activities that protect our property values. The BNA is holding a beautification contest and one resident will win the Bloomingdale Beautification Award (BBA) and $500!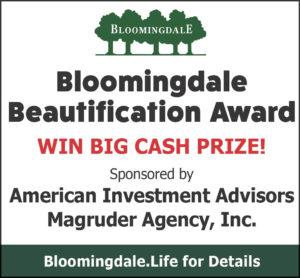 The contest runs from April to July! To participate in the contest, take a time dated picture of your yard or home before you start your work. Then, take a time dated picture of your yard or home after you finish your work. Submit your name, address and pictures by July 1 through email to bl.neighbor1@gmail.com. The BBA committee will review submissions and view homes. Judging will be done on curb appeal, with guidelines from the county code regulations and using deed restrictions for judging guidance (if applicable – restrictions within mandated HOA neighborhoods or non-mandated HOA neighborhoods).
The winner will be announced at the July 11 BNA Board meeting. The winner will receive $500! The winning home will also be featured in the August issue of The Bloomingdale Gazette.
Huge thanks to the sponsors of the Bloomingdale Beautification Award: American Investment Advisors and Magruder Agency! Thank you for your commitment to the Bloomingdale community!
Join the Bloomingdale Neighborhood Association!
What does your membership go to?
– Community Garage Sale
– Community Clean-Up Day
– Community Picnic
– Bunny Drive-through Visit
– Santa Drive-through Visit
– Service hours and scholarship opportunities for students
– The Bloomingdale Gazette
– BNA social media pages (this website, Facebook, Instagram and Twitter)
– Part-time staffed office to assist with inquiries
– Board interaction with government officials to highlight community needs and issues like development, road and sidewalk issues, and the conditions of our parks
– Neighborhood standards list to maintain our property standards and quality of life. We do not enforce deed restrictions, rather we work with county code officers to report code violations
The $35 membership fee is returned 100% to the community. Every member and dollar matters. As a united community, we will make our neighborhoods better!
Join the BNA now via PayPal! Scan this QR code and follow the easy PayPal Instructions.

---
_______________________________________________________________________________________________________
Visitors
Like us on Facebook and follow us on Twitter!